Welcome to Bob's Room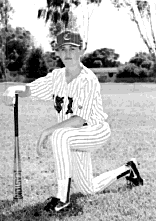 My name is Bob Connor. I go to school at California School for the Deaf, Riverside. I live in Redlands about 25 miles from Riverside. It is a small city with about 60,000 people. I am a Sophomore at my school. If you wonder why I have a baseball room, it is because I like to play baseball. I have been playing the game for 11 years. I am on the high school varsity team at my school. I have a batting average above .200 with less than 12 strikeouts in 21 games. I won my first pitching game when I was playing against Fremont (another deaf school in California). I was pitched three no-hit innings until the forth inning, it was broken when the batter got a hit in a two strikes and one ball count.I threw 8 strike outs in 5 innings during that game. A relief pitcher came to take over my place when I was tired. I batted .333 against Fremont in a game. We won the game 12-6.
Our school also played against Texas School for the deaf. We lost with the score 21- 15. I batted .400 that game.
There are forty students in my graduating class. I have a 4.0 average in school. I am the class president for the sophomore class. I have received many honors in school.
At home I am an average boy who always seeks to play many games. Mostly outdoor games. I ride my bike a lot during the summer. One reason is to keep my legs strong for baseball. In May,1997, I rode my bike 50 miles in one day with some friends, my dad, and my brother. We rode from Calico Ghost Town to an area that has many lava rocks along the old Route 66. I also have a set of weight equipment. I use the equipment to get stronger for baseball.
The daily life for me in Redlands isn't much but it is a nice town with less people means less crowded.
[Home]
[Back]